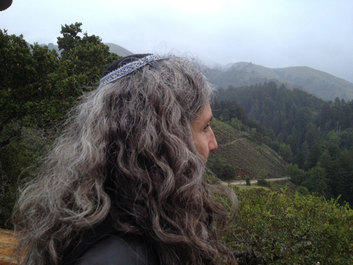 I have studied kabbalah seriously for about over 20 years. The complexity and the dynamics of it intrigue me, and inspire me to find imagery that speaks to those of us who do not fit the binary gender and sexuality paradigms that much of kabbalah perpetuates. I have a strong motivation to bring out the queernesses in it, and the non-dualities, both for the sake of those of us who feel in whatever way not gender-normative, queer, or complicated, but also for the sake of the kabbalah itself, which will survive and flourish much better if it is explored more fully and creatively.
In addition to being a rabbi, I am a nurse practitioner, and have been involved in health care, mental health and healing practices of various kinds for over 30 years. For about 20 years, I worked with people with AIDS, as well as starting the Seattle Needle Exchange program, at which I worked for a decade. All of these experiences greatly inform my approach to kabbalah, Judaism, and life in general. Also, for many years I was involved in teaching in feminist spirituality traditions.
I have been exploring the sacred dark for the last 25 years. Images of sacred darkness have been important to me for many reasons—partly because, whereas often experiences of sacred presence are described as going up in to the light, I most frequently experience the sacred in a deepening down into the dark. But I also am motivated by the political implications of how we look at dark and light—the implications for racial and gender relations, and for how we care for the environment, if we polarize light with good, and dark with bad. I also want to clarify that when I talk about sacred dark I am aware of the ways in which people say they want to "embrace the dark" when they mean, embrace the grief, anger and suffering in the world, and be present with it, rather than denying, ignoring or hating it. But that is not the aspect of sacred dark that interests me most.
I am more interested in the dark of the soil in which the seed grows, the soothing power of night that allows our bodies to grow and heal, the dark of the black fire of Torah, and the thick darkness Moses entered to receive Torah.